Anyone can take a cruise vacation. It takes a special traveler to combine their love of travel and their love of doing good on a Fathom cruise vacation.
I was given the opportunity from Fathom to go on their impact travel cruise to the Dominican Republic. All opinions expressed are my own.  
There are thousands of choices for a cruise vacation. They all have much in common: relaxation, full-service pampering, comfortable accommodations, delicious food, and a chance to explore. But there is only one cruise vacation that takes all these personal luxuries and combines a love of travel with a love of giving back.
Fathom, the newest brand of the Carnival Corporation, pioneers the idea of traveling with a purpose. It provides an opportunity to build community with like-minded travelers, become immersed in another culture, and work alongside its people to create enduring social impact.
Tourists see. Travelers seek. Join like-minded travelers seeking a path to make a difference on a @Fathom cruise vacation
Click To Tweet
What attracted me to Fathom? It began with their impact travel philosophy. I loved the idea of combining my love of travel and exploration with my love of giving service, especially when I would be serving citizens of a third world community.
I loved that I would be travelling on a smaller vessel. Gigantic cruise ships have lots of crazy amenities (shopping centers, zip lines, Olympic size pools) that make the ship feel more like a small city to get lost in. The Adonia, Fathom's only ship, has a capacity for a little over 700 passengers, providing a more intimate setting.  
I loved that I would be exploring a relatively new, world travel destination.  It has been 25 years since any ships docked at Puerto Plata, Fathom's port in the Dominican Republic. Carnival spent 85 million dollars renovating Amber Cove for security, beauty and fun – the perfect gateway for entering the community to serve.
But most of all, I loved the idea that on this cruise vacation all of my fellow passengers were there to make a difference – just like me. The desire to participate in world travel that gives back created a warm and friendly spirit that I've never experienced on any other cruise vacation. From the members of the Fathom crew to the cruise guests, it felt like family.
I met Steve and Mary Neff at dinner the first night on the cruise. From Seattle, Washington, Mary works for a non-profit, Mountain View Community Center, whose goal is to help low income people get out of poverty in one year. She felt that going on this Fathom cruise vacation would help her in her non-profit work and that her non-profit work would help her reach out to the people of Puerto Plata.
Robin and her son Malachi are from Atlanta, Georgia. We worked side-by-side at Re Papel – a paper making factory started in 1989 by single mothers looking to support their families close to home. Robin wanted to give 10 year old Malachi a memorable experience of impacting and helping other people. "I only have 7 more summers until he goes to college and I want to make the most of them." Malachi said of his Fathom cruise vacation, "it feels good" to help.
This well-traveled foursome— Terrence, Sloane, Carolyn and John — has gone to Africa, Mexico, Turkey, and Greece together. Carolyn said they chose this cruise vacation because "they wanted to do something more than bar hop and shop." John was impressed with how Fathom "took good-hearted people and taught them about giving. We learned a lot and we thought we were already pretty good."
"It's genius how @Fathom pairs vacationing with volunteering" Make a difference #ImpactTravel #TravelDeep
Click To Tweet
This cruise vacation was a first for Penny and David. Married 39 years, they met in the Air force where Penny was a nurse and David,was a doctor. Both retired, they serve on the board of the New Salem State Historical Site, a restored frontier home where Penny demonstrates basket weaving.  Penny loved working at the paper factory. Even though it rained, they "plugged along." David thought giving water filters to 3 families and a church in one of the small villages was "the best."
I sailed on Fathom's 4th journey. During our voyage's time in the Dominican Republic, all of us passengers worked together to plant 6,359 seedlings, made 2,556 sheets of paper, laid down concrete floors in 9 homes, produced 213 water filters, and taught 738 students English.
Giving service. Forging friendships. World travel. Making a difference. Experiencing a new culture. An unforgettable adventure. Only Fathom offers this kind of cruise vacation. I was so glad I went and hope to return again.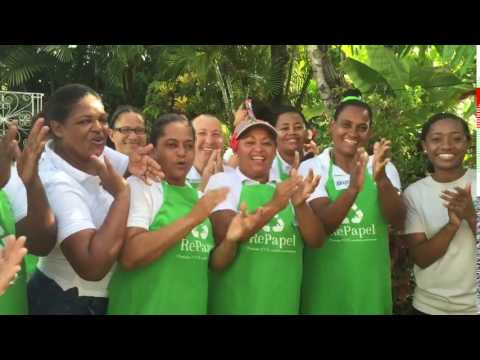 Fathom is now offering special deals on their cruise vacations to the Dominican Republic. Visit their website for details.