Are you missing your holiday decorations?  A quick DIY craft that will spruce up your home in no time.
After taking down my Christmas decorations, my house looked pretty bare. A winter themed garland was the perfect answer to  add some color back to my house.
DIY Seasonal Garland
Step 1: Purchase the Materials
Supply List
3 -4 Spools of Ribbon in various colors/widths and  cut in 6 inch strips
5 -6 Assorted Embellishments to match your theme
Burlap
Baker's Twine to match your theme
Tapestry Needle
Hot Glue Gun
Since I knew I wanted to make a winter themed garland, I was on the look out for blue, silver and white ribbon as well as winter themed embellishments. I went to Ben Franklin Crafts the day after Christmas where holiday craft supplies were 70% off.  I purchased 3 spools of ribbon, packages of white glittered snowflakes, blue baubles, and snow tipped mini-pine cones, and a spool of silver stars. My supplies came to just around $18.00.
The anchor for the garland is burlap:  6 inch wide burlap ribbon. Since burlap ribbon was not on sale, I purchased a yard of burlap fabric instead and cut it into 6 inch strips. I sewed together the strips to make a length of fabric 3 times the length of the area I wanted my garland to go. I ended up with enough sewn strips to make two garlands — one for now and one for later. So that the edges of the burlap wouldn't fray, I put some Fray Check along the sides.
Step 2: Gather the Burlap
I first tried using my sewing machine's gather stitches in the middle of the burlap strip to gather the material but the threads ended up adhering to the burlap and thus wouldn't gather. Next, I doubled the thread and tried hand stitching a gathering stitch and that too adhered to the burlap, preventing me from gathering the fabric. Frustrated, I went to YouTube and watched this video, which not only said to use baker's twine to hand gather the burlap strips, but also gave handy hints on how to add the ribbon strips to the garland.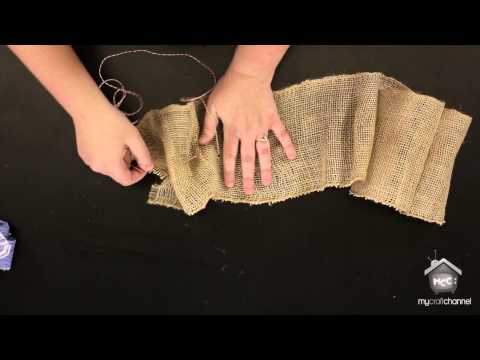 Step 3: Add Additional Embellishments
Once the fabric was gathered and the ribbons in place, I could add the other embellishments I purchased. I started with the blue baubles, then the pine cones, then the snowflakes and finally I twisted the star ribbon up and down the garland. I used my hot glue gun to attach each addition, making sure everything was evenly spaced along the burlap.
I put my finished garland on my mantle. I loved how it turned out and how it brightens up our family room. 
In the end, it was super easy to put together and only took a couple hours to make. I can't wait to make my next one for February and Valentines Day.